Commerzbank in a nutshell
Commerzbank offers a wide variety of derivative financial instruments.

With years of experience and cutting-edge financial products, Commerzbank is a market leader in structured products.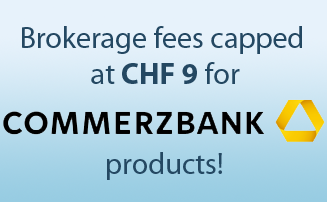 Our Partner offer
Brokerage fees capped at CHF 9 for Commerzbank products on SIX Swiss Exchange and SIX Structured Products Exchange
Find out more about Commerzbank's Faktor Certificates
Take advantage of this straight away!
Faktor Certificates
Faktor Certificates are a new generation of leveraged products much appreciated by the market thanks to their simplicity and transparency. For each underlying, you can choose between a long and a short version with a fixed leverage factor.
The long version replicates the daily performance of the underlying multiplied by the leverage factor, while the short version replicates the inverse performance of the underlying multiplied by the leverage factor.
If, for example, you choose a long certificate with a leverage of 5x and the underlying gains 1% in value within one day, then your return on the Faktor Certificate will be 5%. However, a short leverage 5 Faktor Certificate would lose 5% in value in this case.
Long and short Faktor Certificates are available on all SMI stocks as well as a large selection of Swiss mid-caps, and European, American and Asian underlyings. We also offer a broad selection of Faktor Certificates on all major commodities and indices.
Benefits for you
Faktor Certificates have no set maturity, which means you can enter into a leveraged position on available underlyings at any time.
Further changes in volatility and time value have absolutely no impact on the price of the Faktor Certificate.
Thanks to the product's simplicity, investors in Faktor Certificates can always track their investment's price trend.