Our current offer!
Brokerage fees capped at CHF 9 for Commerzbank products on SIX Swiss Exchange and SIX Structured Products Exchange
Find out more about Commerzbank's Faktor Certificates
Take advantage of this offer straight away!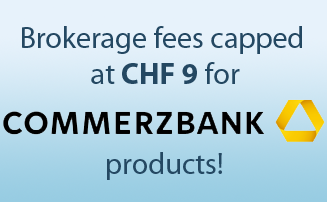 Our current offer
Recommend us to a friend and you'll be rewarded for it!
Your friend will also be eligible for our special new-client offer
This special offer is now!
» Recommend us

Offers from our partners
Expand your portfolio with products from our partner companies
Benefit from our partners' special offers
Take advantage of attractive fees
» Find out more about this offers