Try us out! Open a securities account now and get

(1)
First CHF 3,000 in Swiss brokerage fees waived
No admin fees in 2020
First CHF 250 in transfer fees refunded
Offer available only until 31 March 2020!
Sign up
Our brokerage fees are significantly lower than those of traditional brokers*
compare and see for yourself!
Brokerage fees for the SIX Swiss Exchange, Swiss Blue Chip Segment, Six Structured Products Exchange Ltd, and investment funds **
de
à
CHF
0
750
6.90
750
2 000
17.90
2 000
10 000
29.90
10 000
15 000
44.90
15 000
25 000
69.90
25 000
50 000
114.90
50 000
75 000
164.90
75 000
199.90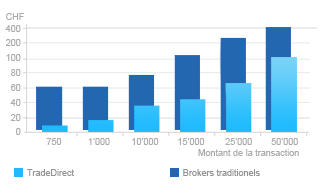 Starting at CHF 6.90 on the Swiss markets.
The maximum brokerage fee for derivatives on SIX Structured Products Exchange Ltd is CHF 69.90. The CHF equivalent of foreign-currency transactions is used for the transaction amount.
Brokerage fees for North America
(NYSE, Nasdaq, Amex and Canada TSX)
0-750
$9.90
>750-2000
$21.90
>2000-10000
$32.90
>10000-15000
$44.90
Brokerage fees for Europe
(Xetra, Amsterdam and London in £)
0-2000
19.90 €
>2000-10000
29.90 €
>10000-15000
44.90 €
>15000-25000
69.90 €
For other markets and amounts:
See our full rate schedule
* Disclaimer: the data above is provided solely as an indication of the average prices of traditional brokers in Switzerland. For a more detailed picture of potential savings in brokerage fees, please compare TradeDirect's rates with those of your regular broker.
** Brokerage fee per transaction. Sales of units of unlisted investment funds are not subject to brokerage fees (except hedge funds).
TradeDirect offers you a trading experience that's tailor-made to suit your needs
Whether you're a first-time investor or a seasoned trader, you'll find tools and services that let you invest your way. Our market experts are ready to answer any questions you may have about stocks or any other exchange-traded product, and our streamlined website is designed to help you manage your accounts effectively, track the markets easily, and make orders quickly. And, if all that wasn't enough, you can also get free investment tips via theScreener! Sign up now!
(1)

Offer
This special offer is valid for all new TradeDirect customers, regardless of whether they are BCV customers.
Your first CHF 3,000 in brokerage fees (excluding other fees and duties) for shares, warrants, ETFs, and fund units traded on the SIX Swiss Exchange, SIX Blue Chips exchange, and SIX Structured Products Exchange Ltd. via tradedirect.ch will be waived for the first three months after you open your account. Any free trades not used by the end of this period will be non-transferrable and non-refundable. This offer does not apply to orders placed over the phone.
No admin fees in 2020 for new securities accounts.
We will refund up to CHF 250 in fees when you transfer securities to TradeDirect, upon request and provided that you send us the necessary supporting documentation once the transfer has been made.
One offer per person. Only first-time TradeDirect customers (i.e., customers who have never had a TradeDirect securities account) who sign up before 31 March 2020 are eligible for this special offer.