Prime Terminal
Automatically receive up-to-the-minute prices for securities on a number of exchanges.
Streaming quotes
Real-time alerts
No session timeout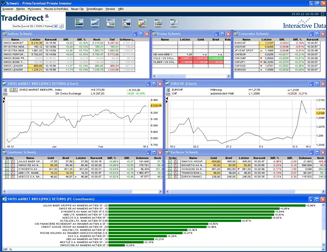 Your at-home trading floor
Your subscription to Prime Terminal includes the following features:
Personalized Watchlists with up to 150 securities and customizable columns
Real-time price alerts
Market depth (between six and ten best bid and ask offers on the market)
Automatic updates of prices and charts
Time and sales data on trades
No session timeout
ntraday and historical charts with technical indicators
Direct link to the TradeDirect trading platform.
Prime Terminal is a cutting-edge tool that provides you with real-time, streaming prices for Swiss markets and delayed prices for foreign markets. Market data is automatically updated.
You can stay connected to the markets from open to close, which makes it easy to track the securities that interest you.
A system of alerts will inform you when the price of a security reaches your pre-set level. The alert appears in a pop-up window, so you do not have to constantly check your screen. When a share reaches the price at which you would like to sell, you can get to the trading area with just a click and quickly place your order.
To sign up for Prime Terminal, please fill out and sign the following form and return it to the address below.
Prime Terminal subscription form
TradeDirect
Service clientèle
Case postale 9705
1001 Lausanne
Switzerland
Fee: CHF 150 (including VAT) for a 12-month subscription