A BCV product
BCV Group: a guarantee of professionalism
BCV Group in a nutshell:
More than 160 years of banking experience
The largest bank in Vaud Canton and among the top five full-service banks in Switzerland
Approximately 2,000 employees
Total assets of CHF 77 billion in 2011
TradeDirect is backed by BCV, a leading Swiss banking group with a strong client focus.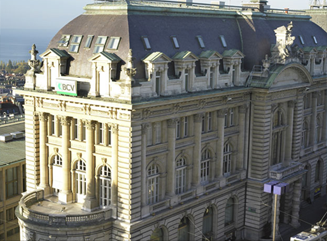 IT support provided by IBM
IBM's range of products and services covers all areas of the current IT market. This allows IBM to offer solutions tailored to specific needs. Clients benefit not only from state-of-the-art technology and a high quality of service, but also from the skills and experience of the world's largest IT company.
You can get more information on IBM's activities around the world at the following address: www.ibm.com/us.
BCV's Administrative Center in Prilly houses an IBM Banking Competence Center (BCC). This center plays a key role in IBM Switzerland's strategy to provide the financial sector with services adapted to its specific needs.
Qualified employees
At TradeDirect, you benefit from the experience and professionalism of dedicated employees:
All TradeDirect staff are BCV employees
They are therefore subject to banking secrecy and BCV's code of ethics
All TradeDirect employees have received basic bank training and advanced job-specific training
Compliance with banking secrecy
Like everyone else who works in the banking sector, all TradeDirect employees are subject to banking secrecy. Banking secrecy is:
The obligation to keep all information about clients and their accounts strictly confidential
A duty governed by Swiss administrative, civil and criminal law
A strict code of ethics
All employees of BCV, and thus those of TradeDirect, observe a strict code of ethics that lays down concrete principles of conduct in the following areas:
the application of banking secrecy
the fight against money laundering